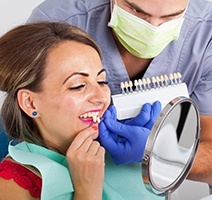 Have you ever noticed that celebrities always seem to have a perfect set of pearly whites? While some of them may have been born that way, the truth is that many famous people elect to have their smiles enhanced with a cosmetic dental procedure known as veneers. This treatment can easily correct multiple flaws in your teeth, like chips, cracks, gaps, or discoloration. Keep reading below to learn more about veneers in Clarendon Hills and how they can benefit you by allowing you to smile like the movie stars.
What Are Veneers?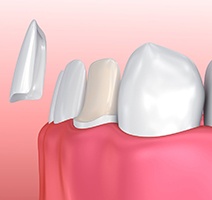 Veneers are thin ceramic shells that are placed over the fronts of your problem teeth to mask all kinds of aesthetic flaws. Each veneer is custom-made in our partnered dental lab to blend in perfectly with the rest of your smile. You don't have to worry about "chiclet teeth" with our veneers; each restoration will appear perfectly natural. Not only that, but they will feel like they have always been a part of your smile.
What Is the Veneers Process Like?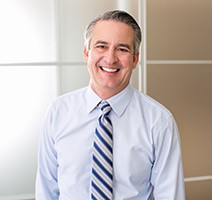 After your initial consultation with Dr. Hong, your cosmetic dentist in Clarendon Hills, plan on scheduling two appointments to place your veneers. During the first visit, our team will prepare your affected teeth by shaving off an ultra-thin sliver of enamel so your veneers will lie flat in the line of your smile. Because enamel is removed, veneers are considered a permanent treatment, so make sure that this is really the option you want for perfecting your smile.
Once we've prepped your teeth, we'll take detailed impressions to send off to the lab. Then, we'll fix you with temporary veneers so that you can take your brand-new smile for a test drive. At the lab, a team of skilled ceramists will painstakingly craft your veneers. This process takes a few weeks. When your restorations are complete, you'll return to our office, where we'll replace your temporaries with your new, permanent veneers and make any final adjustments if need be.
What Are the Benefits of Veneers?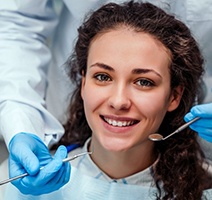 By far the most prominent advantage of veneers is their versatility. With just a single treatment, we are able to address several cosmetic imperfections at once, such as chips, gaps, cracks, and stubborn stains that don't respond to typical teeth whitening treatments. As we mentioned earlier, veneers also perfectly resemble natural teeth, just without any of those pesky flaws. Onlookers shouldn't be able to tell that they aren't your "real" teeth. Additionally, veneers are much more highly resistant to staining than your enamel, so you can enjoy items like coffee and red wine to your heart's content without worrying about it discoloring your smile. Lastly, veneers should be able to last up to 20 years if you take proper care of them with regular brushing, flossing, and checkups with us.
How Much Do Veneers Cost?
Veneers can dramatically improve the appearance of your smile, but many patients are concerned that they can't afford this treatment. Rest assured that our helpful and friendly team is more than happy to help you navigate your budget and determine the best option for paying for your new smile.
Keep in mind that there is no fixed cost of veneers. Your total cost could be influenced by a number of factors, such as the number of veneers you're receiving and any preliminary treatments you might need. During your initial consultation, Dr. Hong will make sure to go over these circumstances in more detail and create the perfect treatment plan that meets your individual needs.
Are you ready to completely revamp your smile with veneers in Clarendon Hills? Give us a call today to book your consultation.