Invisalign – Clarendon Hills, IL
Get a Straight Smile with Clear Aligners
Have you often dreamt about getting a straight smile, but hate the thought of metal braces? You are not alone, which is why more than 5 million teens and adults have chosen the clear choice for a straight smile. With Invisalign in Clarendon Hills, you can get the results you want without the hassle or embarrassment of traditional braces because no wires or brackets are used. Instead, clear plastic aligners give you the discreet treatment you need to maintain a mature and sophisticated image.
How Does Invisalign Work?
Invisalign differs from traditional braces because brackets and wires are not used to pull your teeth into position. To move your teeth, your cosmetic dentist in Westgate takes 3D images to map their movement over time. This information is used to create a series of aligners, which you wear over your teeth for at least 22 hours per day.
You wear each aligner in the series for 1 to 2 weeks based on your dentist's recommendations. On average, it takes about 12 months to complete the series of aligners. At the end of your treatment, you will require a retainer to prevent your teeth from moving back into their previous positions.
What are the Benefits?
Invisalign offers exceptional benefits that are not possible with metal braces, such as:
Discreet Appearance: The aligners are made from clear, BPA plastic, so they are virtually undetectable to feel confident during your treatment.
Comfort: The aligners are smooth and provide a custom fit. You will not need to worry about any slipping when speaking or irritation to the inside of your lips and cheeks.
Added Convenience: You will not require appointments for adjustments because no wires are used. Instead, you will only need checkup visits every few weeks.
No Dietary Restrictions: The aligners are removable, so you can still eat and drink whatever you like; however, you should have nothing but water while wearing them.
Easy Care: Since you can take the aligners out, your oral hygiene routine is unchanged. There are no brackets or wires to clean around. Simply brush and floss your teeth as you normally do while taking a few minutes each day to clean the aligners.
Quick Results: Often, you can complete your treatment in about 1 year instead of having to spend several months wearing braces.
How Much Does Invisalign Cost?
There is no set price tag for the treatment because the amount is based on your individual treatment plan, such as how many aligners you need and your insurance coverage. We help to maximize the value of your policy to reduce the out-of-pocket cost. To pay any remaining balance, we accept several payment options, including third-party financing with CareCredit.
Invisalign Frequently Asked Questions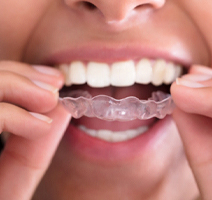 When it comes to orthodontic treatment, you want to understand everything from the process and procedure to the results and post-treatment care. No matter the reason you're pursuing Invisalign in Clarendon Hills, it's an investment in your time and money, both of which makes it easy to understand why you might have questions about this type of treatment. Dr. Hong and Dr. Lam have compiled a list of Invisalign FAQs to help you make a confident and clear decision. Review the list below, and should you have any additional questions, please don't hesitate to contact us.
Am I a Good Candidate for Invisalign?
Typically, adults are the best candidates for Invisalign. Why? The reason is that, as adults, the teeth and jaw are no longer growing, and most adults are willing to take on the responsibility that comes with wearing Invisalign.
The process requires you to wear the aligners every day for 22 hours. Every 1-2 weeks, you'll switch out your trays for a new set in the series. The only time your aligners should be removed is when you're eating, drinking, or cleaning them, so receiving treatment for Invisalign should only be for those individuals who are dedicated to the process.
Additionally, Invisalign is a versatile treatment option, so if you have crooked teeth, minor gaps, overcrowding or mild to moderate bite alignment problems, you can benefit from Invisalign.
Is Invisalign Painful?
If you're struggling to decide between Invisalign or traditional metal braces, you'll be happy to know that your clear aligners will be less painful. Metal braces include brackets and wires, and every month or so, you must see your orthodontist to have the wire adjusted. This forcibly shifts your teeth. With Invisalign, you simply see your cosmetic dentist in Clarendon Hills for your scheduled appointments to make sure everything is moving along smoothly.
Your clear aligners have no wires, so no adjustments are needed. You'll just swap out your aligners for a new set in the series every 1-2 weeks. This will cause your teeth to gently shift in the right direction.
How Do I Take Care of My Aligners?
You have two options when it comes to cleaning your aligners: the official Invisalign system or using your at-home equipment. You have the option to purchase an Invisalign cleaning system should you wish, but, if you're looking to save some money, all you need is a toothbrush, clear soap, and warm water. This will remove anything that is on your trays, so it doesn't transfer onto your clean, natural teeth.
Just remember to never use hot water on your aligners, as it can warp the plastic.
What Do I Do if I Lose or Damage an Aligner?
When wearing Invisalign, the first thing you should do is purchase a few protective cases. This will keep your aligners safe when they're not in your mouth. If you do happen to lose or damage an aligner, make sure to always keep your previous set.
You'll want to call our dental office and alert us to the problem. Depending on where you are in treatment, it may be possible to go ahead and move on to the next aligner set, or you might need to wear your previous aligner until a new one can be created for you.
Get a Straight Smile Today!
If you do not love your smile, we can give you the results you want using the clear choice in orthodontics. Contact our dental office today to schedule your consultation for Invisalign. We look forward to improving your oral health and your confidence through a straight smile.